ASBG is a business representative body helping organisations deal with the substantial and rapidly changing environmental, and greenhouse laws and helping them to become more sustainable.
Below is are our current set of environmental training and environmental seminars to assist you in being better at managing environmental issues at  your site. We also run many other member events and more details are available on our website.
Environmental Training and Environmental Seminars

A 3 session webinar to get you up to speed on managing and negotiating your Environment Protection Licence (EPL). It covers the legal compliance issues and practical issues of managing environmental controls specific to your site.  Learn how to negotiate changes to your licence and how to deal with EPA inspections and investigations.  Also included is the link to the planning system and what this involves and when you may need this as well for expanding your site.  See More... Register Here... $125 members, $150 non-members
A webinar over 3 x 1 hr sessions to get you up to speed on the complex area in dealing with waste regulation, classification, tracking, Resource Recovery Exemptions, general wastes, asbestos wastes, hazardous wastes and much more. Recorded sessions - watch at any time. Includes competency test. Members $90, Others $120   See more...  Register here....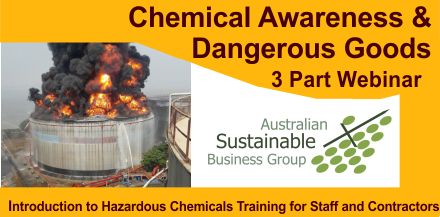 This is a practical  3 part webinar designed to get general staff and contractors up to speed on chemical awareness, labelling,  storage and handling of dangerous goods. It focuses on basic storage of dangerous goods at your site and how to read SDSs and package labels. Includes competency test.  Members $125, Others $155.  See more... Register here...

This webinar is designed to assist organisations prepare, improve, implement and update their PIRMPS and  Emergency Plans.  Areas focused on include chemical and pollution incident response and compliance under WHS legislation and environmental laws featuring a focus on Pollution Incident Response Management Plans.  Documentation, testing, risk assessments are other key areas.  See more... Register here.
A recorded version of this webinar is now available to bring participants up to speed on the new environmental obligations under the NSW Federal Environmental and state environmental law changes. It has been designed to assist sites to update their EMS or ISO 14001 legal registers. Others will find the session packed with the latest new requirements and issues affecting environmental management at business operations. Members $80, Others $100 See more... Register here...

ASBG has prepared a PIRMP Template Package with 3 hours consulting to assist NSW environment managers meet their new obligations  and save time. Package value $1600. See more...