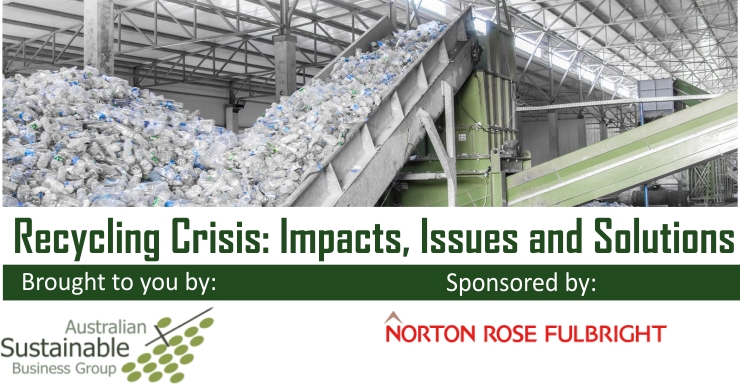 Waste Recycling is under threat from many directions and urgently requires practical and cost effective solutions. Actions are underway to better manage this international issue, but there are many local challenges. This seminar will address:
    
•    Impact of China's National Sword - what it and other forces are doing to recycling
•    NSW EPA's C&D and Scrap minimum standards and Waste Regulation changes
•    Solutions to avoid drops in recycling levels, short and long term approaches discussed

Following the enforcement of China's National Sword recycling has had its end market considerably reduced.  A cooperative process is essential to solve this crisis, involving all players and stake holders in the recycling system, generators and purchasers of recycled products.  But will this occur or politics intervene and blame games start.

Australia now faces expensive options of redesigning recycling to meeting higher export standards and developing larger internal recycling and reuse systems.  All of which require improved recyclate quality. To avoid sending kerbside recyclate going to landfill alternative are required such as down cycling, Energy from Waste, improved source separation at source and at recycling facilities and new markets. The NSW EPA current policy trajectory is to control on recycling, such as under their proposed Waste regulatory changes and minimum standards for scrap metal collectors and C&D recyclers simply increase costs and business uncertainty.

But who will pay for these changes?  Calls for additional Extended Producer Responsibility, increase use of Product Stewardship legislation and bans on single use plastics are also gaining pace.  Consumer product suppliers will be soon pressured to pay for new measures, but inefficient approaches such as CDS expansions are on the table.  Key speakers include:
Ron Wainberg, MRA consulting
Anne Prince, A Price consulting
Luke Schepen, SUEZ
Daniel Waddington, Australian Bale Press
Luke Parker, Sell and Parker
Gavin Shapiro, Norton Rose Fulbright
Miles Mason, New Energy
Andrew Doig, ASBG
Companies that are brand owners, Councils, waste contractors, businesses that recycle wastes, waste equipment suppliers will be affected in various ways in the short and long term.
This seminar is sponsored by Norton Rose Fulbright.
Price:

ASBG/NRF members       $395
Non-Members:               $320                     
Notes, morning and afternoon teas & lunch is included in full package

Time:    8:45 am rego. 9 am to ~4:45 pm
Date:    10 April 2018
Venue:  Norton Rose Fulbright, L10, 44 Martin Place, Sydney
Register and pay by Credit Card or Register and be invoiced
Click on the download below to see the full agenda .