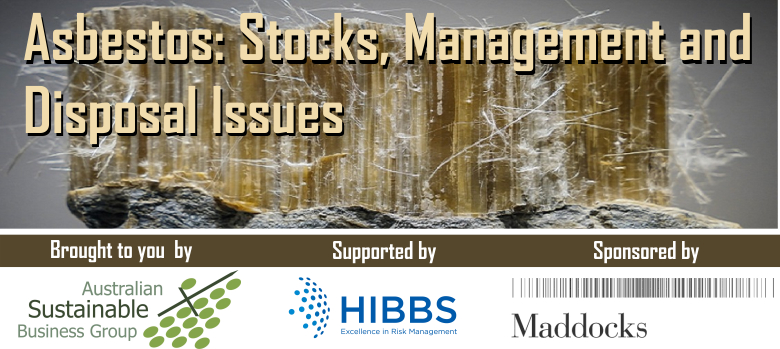 20 August 2019 - Sydney
How to best rid NSW of the scourge of asbestos and its contaminated materials is a key theme of this seminar.  Doing it efficiently, safely and cost effectively seem reasonable goals, but there are many obstacles in the way.  Other key themes include:
Navigating the recent regulatory changes on asbestos waste management
Linking WHS, Contaminated Land, Site Management and Occupational Hygiene
Identification of asbestos stocks and flows of asbestos materials, where does it go?
Solutions for managing contaminated stockpiles - EPA accepted screening processes and practices
Consider cost effective approaches to asbestos remediation
Impact of new NSW laws on asbestos waste management
Investigate impacts of asbestos on recycled materials and disposal methods
Speakers represent a broad cross section of disciplines, which have a role to play in asbestos management, along with the main regulators to provide a holistic view of asbestos management in NSW. The seminar will also discuss emerging issues with the management of asbestos waste and asbestos containing materials including:
Asbestos waste issues – definitions, enforcement, available disposal services and transport and costs
Legal impacts of the new POEO Act and Waste Regulations amendments on asbestos
Management of ACM and asbestos impacted contaminated soils with under contaminated site requirements
Recent court case impacting on liabilities in finding asbestos in reused soils
Leaving asbestos on a contaminated site - capping and clean up requirements
Definitions of what constitutes asbestos free material especially for recycled materials
Current and proposed planning requirements for asbestos site remediation
How much asbestos materials are left in building stock and when should it be removed?
With the combination of the various disciples, rule makers and other concerns, this seminar seeks to improve NSW's approach to asbestos management.
This seminar is supported by Maddocks and Hibbs & Associates.
Date:  20 August 2019
Time: 8.20am (Registrations) for 8:30 am to 4.40 pm
Venue: Maddocks, L27, 123 Pitt Street, Sydney
Cost: $395 (ASBG, Hibbs & Associates and Maddock's clientele) or $495 (Non Members)