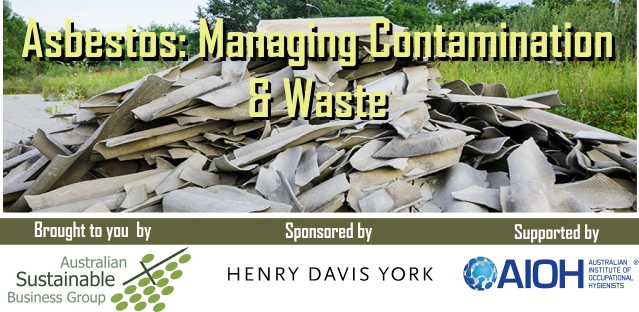 6 October 2016 - Sydney

This seminar's aim is to:
Identify efficient management of asbestos waste and ACM
Promote efficient removal from human exposure routes to maximising health outcomes and minimising costs.
Areas under WHS, contaminated sites and waste regulation governing ACM handling and asbestos waste have roles to play. Confusion and issues with the technical assessment and handling of asbestos materials and wastes can cause inefficiencies, delays, poor handling, all of which can lead to increased exposure leading to higher health risks.  The conference will also discuss emerging issues with the management of asbestos waste and asbestos containing materials and will attempt to answer the following questions:
When does Asbestos Containing Material (ACM) become asbestos waste
How are ACM contaminated soils dealt with under contaminated site requirements
What levels of ACM are permitted to be left on site in soils
To what extend can you source separate asbestos from other materials e.g. soils on-site
What is an asbestos free material and or an asbestos free waste
Measurement of asbestos – what triggers lead to an analytical tests
Does having no scientific contaminate level for asbestos waste cause issues
Recycled wastes and asbestos contamination – what is an acceptable screening methodology
How to help communities understand that good asbestos management will minimise risks
Sydney has limited and a reducing number of landfills which accept asbestos waste – will this become an issue
The conference's agenda includes:
Henry Moore, Manager Waste Strategy and Innovation, EPA
Asbestos waste management in NSW - regulatory an management initiatives
Andrew Morgan, Director, Asbestos Safety Eradication Agency
Issues facing the efficient management of asbestos wastes and ACM
Kevin Murphy, State Inspector - Asbestos and Demolition, SafeWork NSW
Management and separation of asbestos from materials on site- Requirements for soils and other ACM and what is 'asbestos free'
Matt Lock, Principal Environment, Tetra Tech Company
A comprehensive pathway in dealing with asbestos impacted sites
Gavin Shapiro, Senior Associate, Henry Davis York
A legal perspective on the management of asbestos waste
Joe Pickin, Director, Blue Environment
Asbestos disposal trends and the National Asbestos Study with a focus on NSW asbestos disposal rates
Peter Keyte, ALS Global
Asbestos analysis – new testing requirements, reporting and measurement issues
Robert Sharp, EQS Advisor, Suez Recycling and Recovery Australia
Asbestos contamination in the recycling sector and asbestos waste disposal – obstacles and issues
Linda Apthorpe, Pickford & Rhyder Consulting
Assessing asbestos in soils, wastes and other area and determining actions – an Occupational Hygienists' perspective
Andrew Doig, CEO, ASBG
A business perspective on asbestos, the waste regulations, waste guidelines and other matters
This conference is sponsored by Henry Davis York (HDY) and supported by the Australian Institute of Occupational Hygienists (AIOH).
Date: Thursday 6 October 2016
Time: 8.20am (Registrations) for 8:30 am to 4.40 pm
Venue: Henry Davis York, L10, 44 Martin Place Sydney
Cost: $395 (ASBG, SIA & AIOH Members, and HDY clientele) or $495 (Non Members)